John Labatt Centre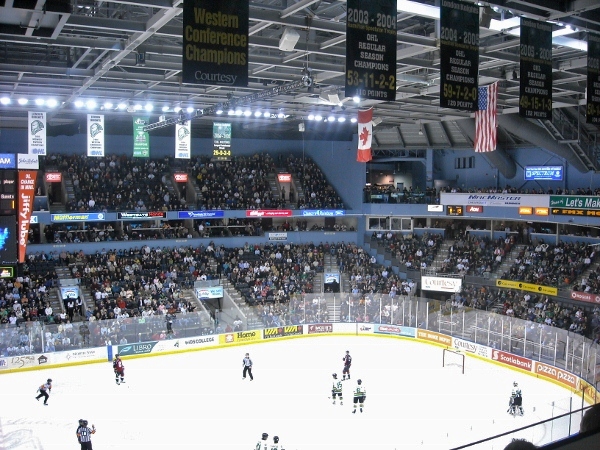 The John Labatt Centre is a multi-purpose facility whose focus is on both entertainment and sports - the largest such centre in southwestern Ontario. The facility is an arena which plays host to many different sporting events such as hockey, basketball, ice skating and wrestling, as well as entertainment, including concerts, theatre and monster truck shows. The John Labatt Centre opened in downtown London, Ontario on October 11, 2002 and will be one of the catalysts in the redevelopment of London's downtown. The facility seats 9,090 for hockey and ice events and over 10,000 for concerts, family shows and other events. The facility has 1,100 premium club seats, 38 private luxury suites and 5 Group Sales Suites.
The John Labatt Centre has several unique features:
It has been constructed in the heart of downtown London and its exterior design incorporates a replica of the facade of the old Talbot Inn, a 19th Century Inn with that of a "state-of-the-art" entertainment and sports facility. Original bricks from the old Talbot Inn were used in The Talbot Restaurant located on Level 200 in the John Labatt Centre.
In addition to having the ability to accommodate both End and Centre-Stage productions, the facility has been designed to accommodate touring Broadway shows. The theatre setting has the ability to seat 2800 people, and has 3 levels of seating including The Talbot Restaurant, and is complete with a 30 line fly grid to suspend scenery or lighting and sound.
The facility has been designed to exceed the Ontario Building Code requirements for accessibility. There is accessible seating on every level.
The facility exceeds the Ontario Building Code requirements for washrooms by 55%
There are approximately 150 sporting and non-sporting events throughout a year (including hockey, concerts, and ice skating)
The John Labatt Centre is the home of the 2005 Memorial Cup Champions, Junior "A" hockey team, The London Knights.