London Resident Thrilled to be First Ticket Buyer for 2013 ISU World Figure Skating Championships
Tickets Still Available to Witness World's Best Skaters

When Geri Brown and her husband Greg arrived at the box office of the Budweiser Gardens at 7 a.m. on the morning of February 10th they were surprised to be the only ones there. Slowly but surely, the crowd formed.
By the time the box office opened at 10 a.m., there was an estimated 150 people waiting in line to buy their tickets for the 2013 ISU World Figure Skating Championships.
Geri was shocked but excited when the ticket agent asked her if front row seats were OK. "I almost didn't expect it, with the on-line sales opening at the same time. I couldn't be happier to have front row seats to the biggest figure skating event in the world" she stated from her home in London.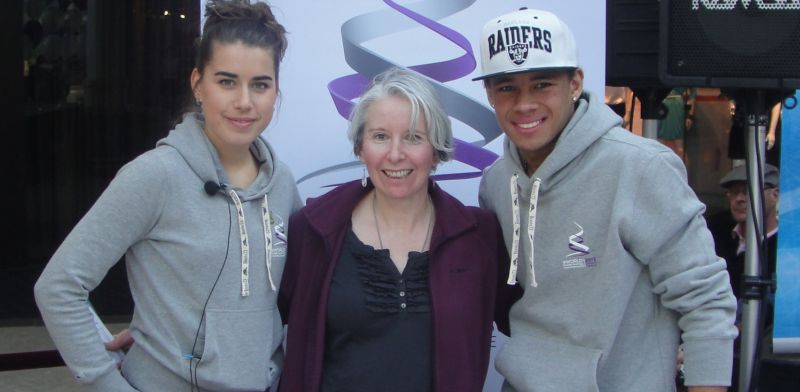 London resident Geri Brown was presented with a 2013 Worlds gift package in honour of being the first person to purchase tickets for the event next March at the Budweiser Gardens.
This will be the second ISU World Figure Skating Championships Geri has attended; her first experience came in Ottawa in 1978 as a teen. That was back in her days as a figure skater, when she was a member of the Scarborough Figure Skating Club, and skated for more than a decade.
Geri has continued to follow skating on television whenever possible, but she knows how special the live experience will be. Her keen eye for skating helps her appreciate the fine technical elements, while also being awestruck by the artistry and athleticism of the competitors.
She is particularly excited to see Canadian ice dancers and London-area natives Tessa Virtue and Scott Moir competing live. Virtue and Moir grew up skating at the Ilderton Skating Club, just outside of London. Geri is also looking forward to seeing Canadian Patrick Chan, as well as a fabulous lineup of international skaters, that "we don't normally have the privilege to see competing in Canada."
Geri believes that London will be a great host city as it isn't a major metropolis, but still has the resources to host a major international event, with a beautiful landscape to boast.
To sum it up, Geri says she is "beyond excited to witness the world's greatest figure skaters at one time in Canada."
All-event tickets will only be on sale until March 17th. The next release of tickets, bundled into three-session packages will be on sale as of the 17th. They can be purchased online at www.budweisergardens.com/, by telephone at 1.866.455.2849 (North America) +1.484. 875.7493 (International direct), or in-person at the Budweiser Gardens box office.