3M Volunteer of the Month – January
Experience Meets Passion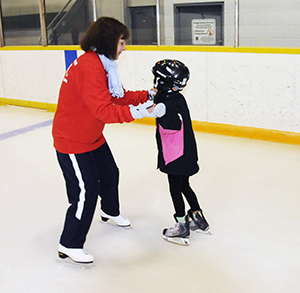 Catherine helping a young skater on the ice at the ProAction Cops for Kids event in Hamilton. The event was sponsored by Catherine's work, the Hamilton Police Service, in 2012.
There is no doubt that our 3M Volunteer of the Month for January will be adding a lot to the team in London, Ontario, at the 2013 ISU World Figure Skating Championships from March 11-17, 2013. Catherine Martin`s career in public relations and experience volunteering at other figure skating events through Skate Canada will make her a key player in Media Operations, where she has been placed.
"What I bring is the technical knowledge, skills, and abilities to work in a media centre for an international competition as well as the enthusiasm and respect for the sport of figure skating. I am really looking forward to working with the entire volunteer team to make this the best Worlds ever for the skaters, coaches, and the fans," exclaimed Catherine.
Catherine a mother in her 40's from Hamilton, Ontario, didn't want to pass up the opportunity to be involved with a world championship, "Worlds is the pinnacle of the skaters' season. The competition in 2013 is a precursor for the 2014 Olympics in Sochi and being held in the great province of Ontario – it is such an honour to be a part of the volunteer team and to make a contribution to the sport I so love."
Catherine is a career volunteer, having volunteered at a number of Skate Canada events, most memorably, the 1997 ISU Grand Prix of Figure Skating Final, 2002 Canadian Figure Skating Championships and 2004 ISU Four Continents Figure Skating Championships.
In the 1970's Catherine starting watching figure skating on television and that was it, she was hooked! She signed up for lessons at the same rink as Canadian Champion Ron Shaver with his legendary coach Ellen Burka. She would often just watch Ron practice while at the rink and recently she returned to her childhood rink to resuscitate her skating skills. She signed up for adult learn-to-skate class and to her surprise Ron Shaver was the club pro! Ron even helped her land a Salchow, which she can proudly still land!
Catherine is one of hundreds of extraordinary volunteers that will be involved with the 2013 ISU World Figure Skating Championships. We look forward to welcoming Catherine to the 3M Volunteer Team in London!